Staff from across the collegiate University were recognised last week for their work to reduce environmental impact in their areas.
Forty-seven teams were presented with Green Impact Awards by the Vice-Chancellor last week. Green Impact Awards recognise staff who are making a sustained effort to improve sustainability and reduce environmental impact in their areas. The 47 teams represented at this year's awards had completed 2,332 actions between them over the course of the academic year, collectively making a powerful and tangible difference to the University's environmental stewardship.
Teams received awards in the Bronze, Silver, Gold and Platinum categories depending on the number of sustainability actions they had completed, while dedicated awards were also handed out for sustainability work in laboratories and Colleges. All of the awards recognised efforts to improve environmental performance through simple good practices in recycling and energy use, as well as positive actions in broader areas such as biodiversity and sustainable food.
Some teams who had previously completed a Gold or Platinum award had spent the year focusing on their own bespoke sustainability projects known as 'Excellence' awards. These included a concerted effort in reducing plastic waste in laboratories, trialling a new recycling infrastructure, and overseeing the expansion of charity recycling schemes.
A set of 'Special Awards' recognised teams and individuals who had gone beyond the requirements of their Green Impact category. A community outreach project in the Centre for Mathematical Sciences (CMS) and an ongoing initiative to reduce laboratory energy use in the Institute of Metabolic Sciences both received awards in this category, while Mick Young from CMS (pictured below) and Leah Gibson from Meet Cambridge received the much-coveted 'Environmental Hero' award for their inspiring individual efforts.
Sustainability is an important issue for the University, which is constantly working to reduce its impact on the environment. Recent years have seen some progress, including a 97% reduction in waste sent to landfill, but there is a lot of work still to do to meet the ambitious targets set in the University's Environmental Sustainability Strategy. Staff and student involvement is key to meeting these targets, and the Green Impact Awards show that even small actions can make a big difference.
To find out more about how to get involved in green initiatives, click here.
A full list of the 2018 awards and winners can be found here.
Spotlight on winners
Geography Science Labs – Platinum Award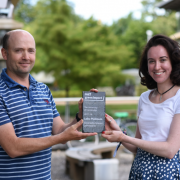 This team's Platinum Award shows that just one or two people can make a big difference. Chris Rolfe and Laura Healy are lab managers in the Department of Geography and over several years of sustained effort have made big improvements to the lab's sustainability by, for example, introducing reusable glassware, reducing the use of harmful chemicals such as cadmium or silver nitrate and encouraging people to adapt their research practices to be more environmentally friendly.
Office of Intercollegiate Services - Gold Award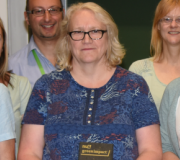 Careful monitoring of energy use led the team to switch off their inefficient night storage heaters during the warmer months and use electric heaters for top-up heating when required, leading both to lower energy use and a more comfortable office temperature. The administrative staff are also diligent about distributing documents and meeting papers electronically and discouraging needless printing.
Clare College – Gold Award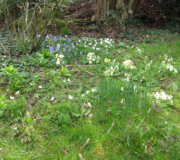 This College has made significant efforts in the areas of biodiversity and sustainable food. An area of native British wildflower planting in the gardens has become a haven for insects and birds, as well as rare plants, while a 'nudge' approach to food presentation in the buttery has lifted sales of vegetarian and vegan meals to 50%. The College is supporting further environmental improvement through a dedicated member of the buildings administration team who spends a percentage of her time on green initiatives.
Centre for Mathematical Sciences/Mick Young – Platinum Award/Environmental Hero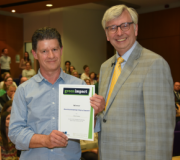 Mick Young explains that the CMS Platinum Award was an unintended consequence of not reading the instructions in the Gold workbook correctly: the team completed every action in the book – far beyond the requirements for a Gold Award! Among the innovative actions undertaken at the Centre were a bulb planting day in partnership with local residents, a herb box so people can enjoy a bit of gardening and fresh herbs for their tea and sandwiches, and a bike recycling partnership with local charity OWL, who employ people with learning disabilities to refurbish second-hand bikes.